"Do We Really Need Staging?" How One Homeowner Went from a Doubter to a Believer
"Do we really need staging?"
This question was an exact quote from one of our testimonials on Yelp. When we first emailed each other about staging, I could tell the seller was unsure. Which is totally understandable. After all, hiring a professional stager isn't like buying a pair of socks at Target.
The act of hiring a home stager can also seem a little crazy: having total strangers come into your home and fill it with staging furniture and props to make your house looks like someone lives there (albeit stylishly).
The process can seem like an episode of the Twilight Zone and why should the sellers pour more money into something they want to sell off as soon as possible? Here is how we turned a doubting home seller into a believer:
Our Approach
The sellers already had moved out of the state by the time we came for a site visit. Because of the move, they were not planning to do any additional work on the unit before it went on the market. The original paint color remained.
If the seller had budget or time allowance, we would recommend painting the walls in something neutral or off-white. The default white color was a stark white, which often makes rooms feel clinical and lacks warmth and energy, which we need for staging. To warm up the space, we added pops of warmer colors and artwork and accessories that had more saturated colors.
We also recommended the sellers to remove the large TV console in the living room that made the room felt more narrow and cramped. In general, we shy away from furniture that is big and overpowering. Why? Because it feels overpowering when you walk into the room. You automatically feel that the room is smaller and you are feeling pressured.
As stagers, we often say that how we live and how we stage to appeal to potential buyers are two completely different things. This project is a great example. The sellers left their bed behind, so we styled their bed with hotel style bedspread for the open house. There were also no artwork in the rooms, so we added colorful artwork to warm up the interiors.
When we live in the home, privacy is often a concern. Since the property is vacant during the sale period, we recommended keeping the drapes open to make the space feel brighter.
We also added more lighting to help the rooms feel brighter. Studies have shown that light sells, especially natural light. This is why modern casinos are designed with access to natural light. All because they had discovered the slot machines next to the skylights usually made the most money.
The Results
It is always happy news to get a client's testimonial saying that we had accomplished what we were hired to do. This is what home staging is about: transforming the interior to look warm and neutral, but still with charm and personality that was inviting to the potential buyers.
Listing Price $798,000 | SOLD $82,000 Over Asking
2 BED · 2 BATH · 1546 SQFT · 13 DAYS ON MARKET · AUGUST 2014
For this particular vacant staging project, the homeowners had requested to leave their bed behind for the duration of the sale. They were still commuting back to California from their new Seattle home to tie up loose ends at work. The stark white paint can make the room seems very drab, so we added a lot of colors through artwork, textiles and home accessories to add more colors and liveliness to the interiors. Below is the before photo of the master bedroom. Scroll down to see the after gallery.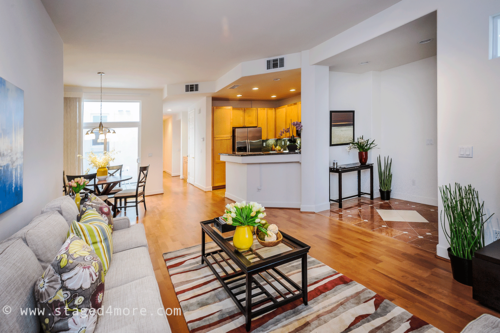 Here is the Yelp review the seller had left us:
SO LONG STORY SHORT, YES, YOU REALLY NEED STAGING!
HAVE YOU HAD YOUR HOME STAGED BEFORE WITH GREAT RESULTS? LET US KNOW IN THE COMMENTS BELOW!
Want to get your home organized and ready for sale but not sure where to start?
Join us for this 30-Day Home Staging Challenge to get yourself ready for market in 30 days.
In this e-course, you will gain an understanding of the home staging process and what today's buyers are looking for. This e-course is designed to give those, who are not familiar with home staging, an overview of the preparation and staging process before listing your property on the MLS.
During the e-course, we will have something for you to do each day. In our course website, you will have access to video lessons, worksheets and action steps.